Roundup of gorgeous 2011 day planners
One of my favorite things about the new year is choosing a fresh day planner. In my quest for one that's just the right size, and has just the right innards (I need plenty of space to schedule my days), I came across these 5 gorgeous agendas that I wanted to share.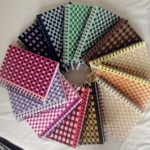 Satin Ribbon Planner
This handmade monthly planner offers several clever features aside from that lovely woven ribbon cover–you can choose your start month, the wire binding means it can lay flat on your desk, and it's filled with motivational quotes to enjoy throughout the year.



My Lavender Cottage's Planner
Another spiral-bound planner so that you can open it flat, this one features a fun inside design and handy tabs to take you straight to the month you want. A wide variety of papers are available for the outer cover, which means you're sure to find one you like.



Leather Hand-bound Planner
This lovely leather planner is a delightfully tiny size–perfect for purses–at just 3.75″ x 6.25″. It's a two-page weekly spread style, so if your handwriting's tidy, and you don't have a lot of activities to jam into each day, take a closer look and see if this is the planner that's right for you.



Desktop Planner
This clever desktop planner uses a wooden base and dividers to keep track of things and even has little pockets to hold smaller items. It's solidly constructed, and handcrafted, and due to its design, reusable year after year. If you have a shabby chic style home office, this one might fit right in.



Weekly Eco Planner
This undated planner is loaded with earth-friendly details like the recycled banana fiber paper that makes up its pages, and the hemp cover. Plus, by being undated, it's extra flexible. (Though, I always find my handwriting's not good enough for an undated planner, personally.)
Have you picked out your new 2011 planner yet? Do you even use a planner? I'd love to hear what you look for when making your decision!